1. Storage of the building materials
Save time and effort to unload the building materials directly to the construction site

2. Concreting
Do NOT clean the pipe of the concrete pump NEXT TO THE BUILDING: the stuff washed out of the pipe will dry and harden as well as concrete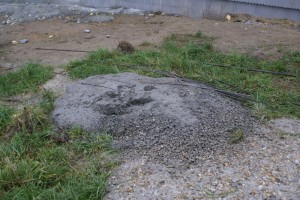 Always CONCRETE all IsoteQ wall sections where workers walk to avoid module treading, damaging

Do not store or mix concrete directly on the blind concrete cause you will be unable to lay the water insulation down.
3. Waste management
Let's COLLECT the waste materials SELECTIVELY away from the building. You can use the remaining timber to make formwork or for test heating later on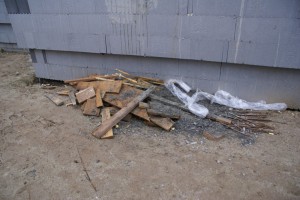 Do not store waste materials next to the building wall cause it may cause wall damage and may tear the protective insulations.
4. Meeting-points of IsoteQ- and other building materials / nodes
Always USE DILATION if you build different materials together

5. IsoteQ walling
DO NOT CUT the lego-like "teeth" off cause you will not be able to connect the elements together and this will cause thermal bridges


If you CONNECT the blocks together ACCURATELY than you do not need to use polyurethane foam. Always remove all pieces of concrete from the top and bottom of the blocks to let them close without gaps.


Take care if you are concreting a longer lintel: the concrete CAN DEFORM the IsoteQ lintel elements


Always USE A STYROFOAM CUTTER to cut IsoteQ blocks to size

Cut as big breakthroughs on the wall just as it is necessary.
Prepare thermal break breakthroughs for the incoming utility lines.
Do not use pur to paste the blocks together! It is very easy to put the blocks together using only those LEGO-like connection teeth.
Ladders may cause damages on the wall surface which will cause a lot of extra costs during plastering.
6. Casement
Do NOT use waste IsoteQ material to cover the concrete of the parapet. You need a totally flat surface to install windows

Do not prepare windowsills using cement plaster coat! Use polystyrene to avoid thermal bridges.
7. Formwork
You should set ceiling supporting stands ONLY ON A MASSIVE CONCRETE SURFACE! Otherwise the concrete ceiling may deform or even break off

8. Ceiling
DO NOT LEAVE GAPS between walls and ceiling blocks

This site is constantly updated, please check back later!